Top 5 Mistakes After an Accident
August 23, 2018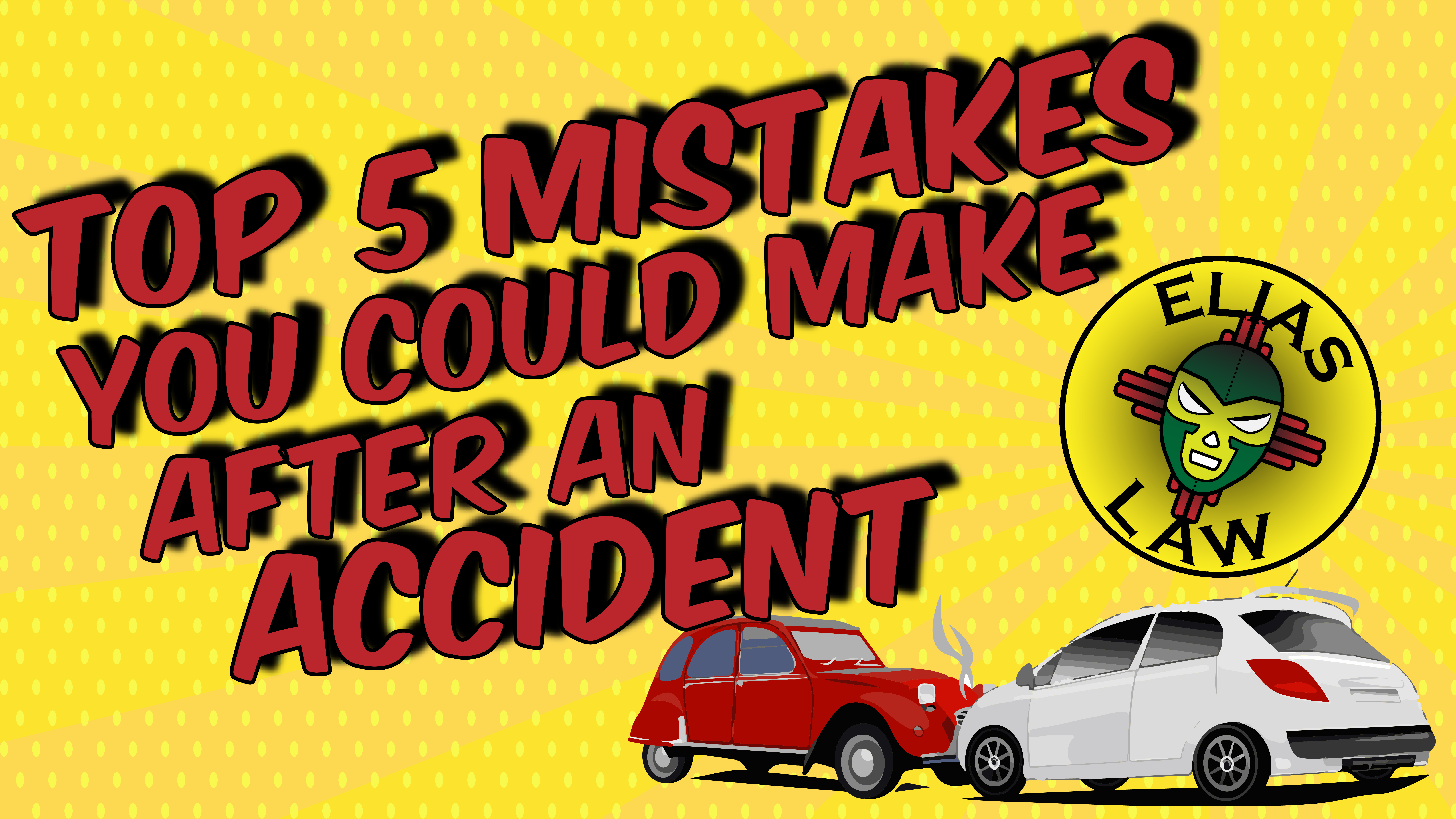 Top 5 mistakes you can make after a car accident and how to avoid them
You don't call the police: even in minor accidents it is important to call the police in order to receive a police report. A police report documents the facts of the accident and contains statements from the drivers and any witnesses. Police reports are valuable tools that can help get you the compensation the insurance companies owe you.
You fail to exchange insurance information: in small accidents people often decide not to photograph the damage or exchange insurance information with the other driver. It is important to always exchange information in case damage isn't noticeable until later.
You allow the insurance companies to handle everything: while it may seem convenient to allow the insurance company to handle every aspect of your claim, it is important to look into it yourself or hire an attorney to represent you. At the end of the day insurance companies are businesses, and they want to save money wherever they can, especially by paying a smaller settlement to you.
You decline medical attention: after an accident many people decide not to go to the hospital in order to seek treatment for their injuries. Neck and back pain often don't show up until the next day, but it is important to get treatment immediately after the accident in order to mitigate and document your injuries.
You don't consult an attorney: accidents often result in large medical and car repair bills. Insurance companies will do everything in their power to avoid paying these bills. That is why it's important to consult an attorney, so that you can ensure that the insurance company gives you all the money you deserve.
---
Los 5 errores más comunes que se puede cometer después de un choque y cómo evitarlos.
No habla a la policía: incluso en un choque pequeño es importante hablar a la policía para obtener un reporte policial. El reporte documenta los hechos del accidente y tiene las exposiciones de los conductores y los espectadores. Los reportes valenta para ayudarle recibir la compensación que la aseguranza le debe.
Falla en cambiar la información de aseguranza: en pequenos accidentes la gente suele decidir no sacar fotos del daño ni cambiar información de la aseguranza con el otro conductor. Es importante siempre cambiar información en caso si el daño es notable más adelante.
Permite que las empresa aseguradoras se encargan de todo: mientras se le hace conveniente dejar que la empresa aseguradora se encarga de cada aspecto de su reclamo, es importante investigarlo usted mismo o contratar a un abogado para representarle. Al final las empresas son negocios y quieren ahorrar dinero cuando puedan, especialmente por pagarle menos.
Se niega la atención médica: después de un accidente mucha gente decide no irse al hospital para buscar el tratamiento para sus lesiones. El dolor de cuello y cabeza no suelen aparecer hasta el proximo dia, pero es importante conseguir el tratamiento inmediatamente después de accidente para mitigar y documentar sus lesiones.
No consulta con un abogado: los accidentes suelen resultar en cuentas altas médicas y de reparaciones de auto. Las empresas aseguradoras se esfuerzan en evitar pagar estas cuentas. Por eso es importante consultar con un abogado así que pueda asegurarse de que la empresa le pague todo el dinero que usted merece.